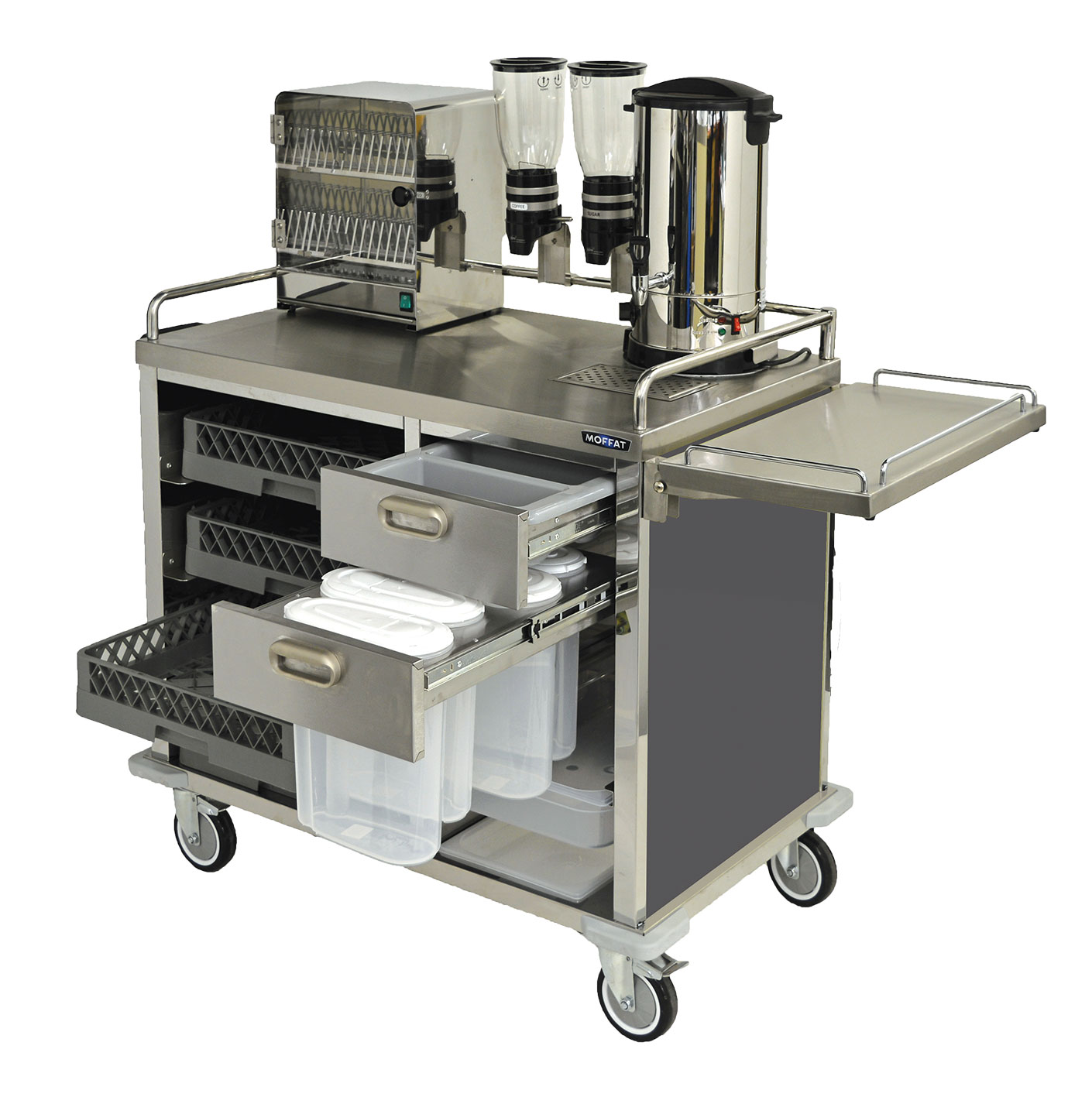 Beverage/Breakfast Trolley
BBT
Attractive & easy to manoeuvre, providing space for everything required for breakfast, tea & coffee service. Perfect for aged care facilities and hospitals. A versatile design with a wide range of options and features. Practical and hygienic for modern ward environments. Multiply drawers and runners for baskets containers etc. to carry crockery on board. Lightweight and robust, the trolley comes complete with a gallery rail on three sides. Underneath are the drawers and one 1/1 Gn size plastic pan 100mm deep on runners for cups, and saucers etc. Positioned on the base there is a 1/2 Gn size plastic pan 65mm deep for cleaning spray, sponge, or cloth. Additionally on the operators left hand side there are four off runners to suit 500mm x 500mm dishwasher type baskets (not supplied).
DOWNLOADS
Specification

Key features
Easy to keep clean.
Light and easy to manoeuvre.
Corner bumper protection.
Solid stainless steel top set at 900mm from floor level.
Robust and ergonomic galley rail on three sides.
Discreet pan for cleaning cloth / spray.
Push pull handles with all swivel castors two with brakes.
Holds up to four dish wash baskets [500mm sq type].
Provides an attractive & efficient solution for a mobile hot beverage service.

Operating Modes
Push pull handles.
Fitted with four castors, two fixed, two swivel with brakes.
Fitted with Lockable drawers as standard.

Options
Wide choice of colours for the sides (the Standard colour is Goosewing Grey).
Dish wash type baskets, 500mm x 500mm [code: BTB1].
Fold down end shelf [code: BES].
Fold down end shelf with waste disposal facility [code: BESW].
30 slice Toast warmer [code: TW1].
10ltr water boiler with drip tray [code:- BTWB].
4 off cereal containers in slide out drawer [code:- BCC].
Cutlery container in slide out drawer [code:- BTB1].
Ingredient Dispensers [code:- BID].
Lockable drawers / dispensers [code:-BLOCK].