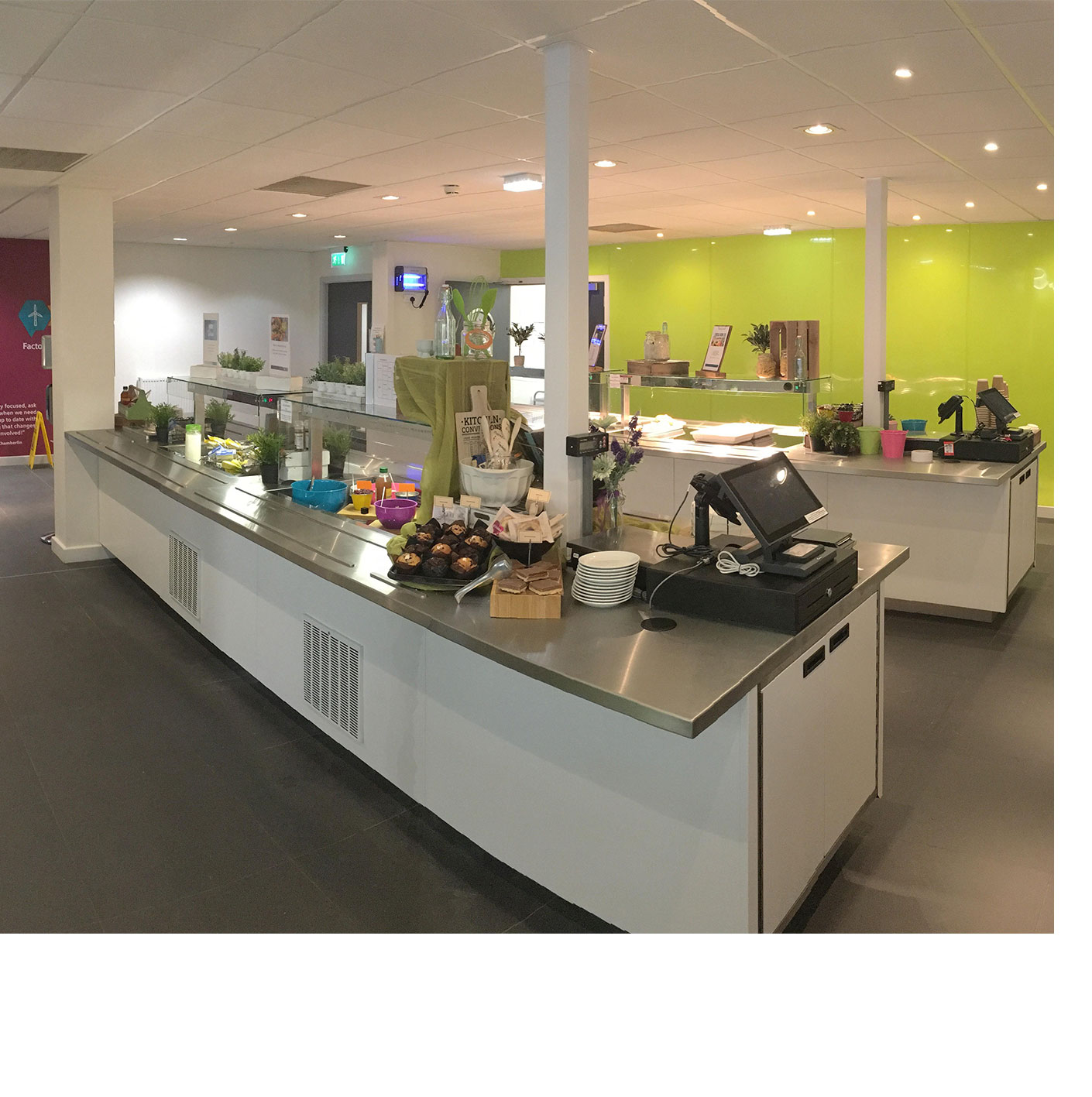 Siemens' busy canteen uses Moffat counters to speed up foodservice
Despite tight constraints, ATL delivers prestige project on time, in budget
The Siemens Gamesa Renewable Energy factory in Hull builds massive wind turbine blades up to 75 metres long. It's a growing business and, due to increasing demand, the factory's catering provision began to develop a serious problem: the canteen couldn't serve lunch quickly enough to the 300 staff, plus on-site contractors and visitors. The layout of the foodservice area caused such long queues that some people spent most of their lunch hour waiting in line. So the company called in Hull-based ATL Commercial Kitchens to help sort the issue. In turn, ATL called in E&R Moffat to design and manufacture bespoke counters as part of the redevelopment of the facility. The result is a fast, efficient lunchtime service in a modern, sleek canteen area. 
"This was a very prestigious project and Siemens wanted to use a local company with commercial kitchen expertise, which is why they came to us," says Lisa Graham, sales director of ATL.  "They also wanted equipment to be manufactured in the UK, so Moffat was the obvious choice." 
Once ATL had discussed the project with Siemens, they briefed Moffat as to what was required.  "The focus was very much on the practicalities of overcoming the queueing issue," says Lisa. Moffat translated the ideas into a real-world product. The client liked the concepts and, with three 'back and forths', to tweak things, the final designs were agreed, as fast as that. 
"By replacing the old single counter with two island units we were able to give staff access on both sides of each counter, which speeded up service exponentially." 
In terms of the finish, Siemens chose stainless steel tops with white panelling on the counters, while the wall cladding is a vivid green, keeping the canteen in line with parts of the factory decor.
The project was handled by ATL's technical director Ashley Stephenson. Phase 1 was completed during the three-day Christmas break and included removal of a corridor wall, to open out the servery area, and the creation of a new door opening.  Phase 2 involved fitting Bio Clad Vivid wall cladding and installing the Moffat counters, during which time a temporary dining facility was set up as the factory was in full operation. 
"The two island counters have a very contemporary, simple design, which fits well with the existing surrounds," says Lisa.  One counter is for hot food, with ceramic hot tops, while the cold counter features refrigerated wells.  Siemens uses a 'pay and weigh' system – so diners put their plate on scales mounted on the counters, and pay accordingly.  Because both counters are accessible from both sides, the facility easily copes with the busy lunchtime rush. 
Lee Whittaker is project manager (real estate) for Siemens Gamesa Renewable Energy. "The new counters have enabled our canteen to offer a better service and quality of presentation," he says. "ATL's product knowledge is exceptional and they delivered a modern, fresh-looking canteen area.  We are now able to accommodate the staff more easily and efficiently. The comments back from the workforce show that they are really happy with the finished results."
ATL completed the project in just one and a half weeks and delivered it on time and in budget. "The sheer volume of staff needing to access the canteen facilities, and the need to deliver the project within very tight constraints, were huge challenges," says Lisa. "The guys at Moffat were incredibly helpful and the company's quality, pricing and customer support are excellent.  Plus, they got the counters delivered within a very strict schedule."